The Origin of the Word "Drag" (History & Significance)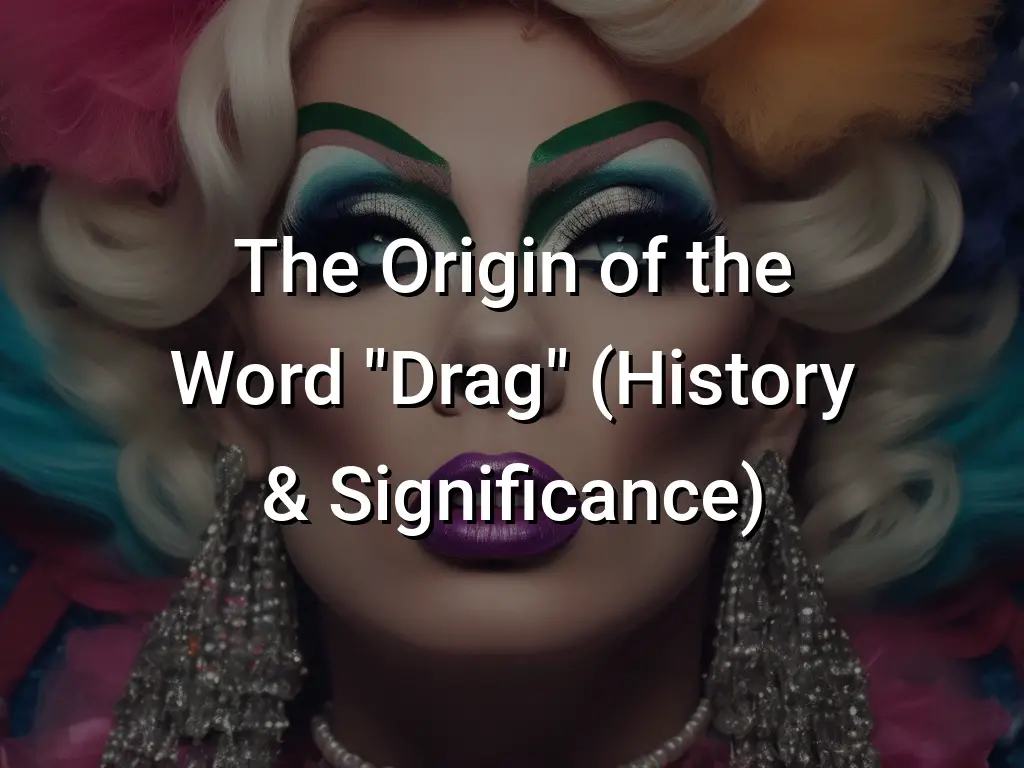 The word "drag" is used in a variety of contexts today, but do you ever stop and wonder where it actually comes from? The origin of the word "drag" has a fascinating history and significance that spans centuries. Let's dive in and explore the roots of this intriguing word.
From its early usage to its evolution over time, the word "drag" has taken on a multitude of meanings. From describing clothing worn by one gender to the performance art form of drag queens, the word has come to represent so much more than its original definition. In this article, we'll trace the etymology of "drag" and uncover its cultural significance throughout history.
What is the Etymology of the Word "Drag"?
The word "drag" has an interesting etymology that dates back to the 16th century. Its origins can be traced back to the Middle English word "dragen," which means "to draw slowly or heavily." This sense of pulling or dragging can still be seen in various contexts today.
Over time, the word "drag" took on additional meanings and connotations. In theatrical contexts, "drag" is often used to refer to the act of dressing in clothing typically associated with the opposite gender, particularly men dressing as women. This usage originated in vaudeville and burlesque shows in the 19th century, where men would perform comedic acts in exaggerated feminine attire.
The term "drag queen" emerged in the mid-20th century to describe male performers who dress in women's clothing for entertainment purposes. Drag queens have since become important figures within LGBTQ+ communities and are often celebrated for their creativity, talent, and the way they challenge traditional gender norms.
In recent years, the word "drag" has also taken on a broader cultural significance. It is now used to describe a wide range of performances and art forms that involve gender-bending or individuals expressing themselves in non-conforming ways. Drag has become a powerful form of self-expression and a means of celebrating diverse identities.
Overall, the etymology of the word "drag" reflects its historical associations with pulling or dragging, as well as its transformation into a term associated with gender performance and self-expression. The word has evolved to encompass a range of meanings and continues to hold significance in both theatrical and cultural contexts.
The Evolution and Historical Significance of the Word "Drag"
The word "drag" has a long and complex history, evolving over time to have multiple meanings and uses. Its origins can be traced back to the Old English word "dragan," which means to pull or draw. This original meaning is still evident in phrases like "dragging a heavy load" or "dragging something along."
In the 19th century, the word "drag" took on a new connotation related to cross-dressing and gender performance. This usage is believed to have originated from the phrase "dressed as a girl," which was later abbreviated to "drag." It was commonly used in British theater to describe male actors who would perform in women's clothing. This form of theatrical drag became popularized and celebrated in Vaudeville shows and later in drag balls and cabarets.
The historical significance of drag goes beyond just the entertainment industry. It has also been a means of expression and empowerment for marginalized communities, particularly the LGBTQ+ community. Drag queens and drag kings have used their performances to challenge gender norms, question societal expectations, and advocate for acceptance and equality. Drag has played a significant role in LGBTQ+ history and has become a recognized art form and cultural phenomenon.
As society has become more accepting and understanding of diverse gender identities and expressions, the word "drag" has evolved even further. It is now often used to describe any form of gender-bending or gender nonconforming performance, whether it be on stage, in film and television, or even in everyday life. Drag has become an umbrella term that encompasses a wide range of artistic expressions and identities.
In recent years, drag has gained mainstream popularity through reality TV shows like RuPaul's Drag Race, which has brought the art form into the homes of millions of viewers worldwide. This increased visibility has helped to further normalize and celebrate the diversity of gender expression and has provided a platform for drag performers to reach wider audiences.
Overall, the evolution and historical significance of the word "drag" demonstrate its ongoing relevance and importance in our ever-changing society. It continues to be a powerful tool for self-expression, challenging societal norms, and fostering acceptance and understanding.
Different Meanings and Uses of "Drag" in Various Contexts
Theatrical Performance: In the context of theatrical performance, "drag" refers to the act of portraying a character of the opposite gender. Typically, this involves individuals dressing in clothing and adopting mannerisms traditionally associated with the opposite sex. Drag performances can be comedic, dramatic, or used as a form of artistic expression.
Automotive: In the automotive world, "drag" refers to drag racing, a form of high-speed competition in which vehicles race in a straight line for a short distance. Drag racing events often take place on dedicated race tracks or strip and attract enthusiasts who modify their vehicles to achieve maximum acceleration and speed.
Technology: In the context of technology, "drag" refers to the act of moving files or elements within a graphical user interface (GUI) by clicking and holding the mouse button while dragging the item to a new location. This action allows users to rearrange, copy, or move digital content within software applications.
Letting something linger: Outside of specific contexts, "drag" can be used metaphorically to describe the experience of making something last longer than desired or to endure something difficult or unpleasant. For example, "The meeting seemed to drag on forever," or "The rainy weather really dragged down my mood."
These are just a few examples of the different meanings and uses of the word "drag" in various contexts. The word has a versatility that allows it to have different interpretations and connotations depending on the situation.
Conclusion: Understanding the different meanings and uses of "drag" in various contexts helps to appreciate its linguistic flexibility and cultural significance. Whether it's in the realm of performance, automotive racing, technology, or everyday life, "drag" holds a rich history and continues to evolve in contemporary usage.
Cultural Significance of the Word "Drag"
Drag in LGBTQ+ Culture
The word "drag" holds significant cultural meaning within the LGBTQ+ community. Drag refers to the art form in which individuals, often gay or transgender, perform gender and identity through exaggerated feminine or masculine presentation. Drag queens, in particular, are performers who dress in extravagant and glamorous costumes, typically with exaggerated makeup and hairstyles. Drag kings, on the other hand, are individuals who perform masculinity through their clothing and actions.
Drag as a Form of Entertainment
Drag has also gained mainstream popularity as a form of entertainment. Drag shows, performances, and competitions have become widely recognized and celebrated. Television shows like RuPaul's Drag Race have brought drag into the mainstream, providing a platform for drag artists to showcase their talent, creativity, and personal stories. Drag has become an important part of the entertainment industry and has contributed to the visibility and acceptance of LGBTQ+ individuals.
Political and Activist Role of Drag
Drag has a long history of playing a political and activist role within the LGBTQ+ community. Drag queens, in particular, have been at the forefront of LGBTQ+ rights movements, using their platform to advocate for equality and raise awareness about important social issues. Drag has the power to challenge societal norms and break down gender stereotypes, making it a powerful tool for social and political change.
Drag as a Form of Self-Expression and Empowerment
For many individuals, drag serves as a form of self-expression and empowerment. It allows individuals to explore and celebrate different aspects of their identity, regardless of their gender or sexual orientation. Drag provides a creative outlet for individuals to express themselves, experiment with fashion and style, and showcase their unique personalities. It can be a source of confidence, liberation, and empowerment for those who participate in the drag community.
Conclusion
The word "drag" has a fascinating etymology and holds significant historical and cultural importance. It has evolved over time to take on various meanings in different contexts. From its origins in Old Norse to its usage in the world of drag performance, the word "drag" has carried with it themes of transformation, resistance, and self-expression.
Whether it's used to describe a type of clothing or a form of entertainment, "drag" serves as a reminder of the power of language and its ability to shape our understanding of identity and individuality. So next time you hear or use the word "drag," take a moment to reflect on its rich history and the impact it has had on our society.