Symbolism of Mountains Exploring the Meaning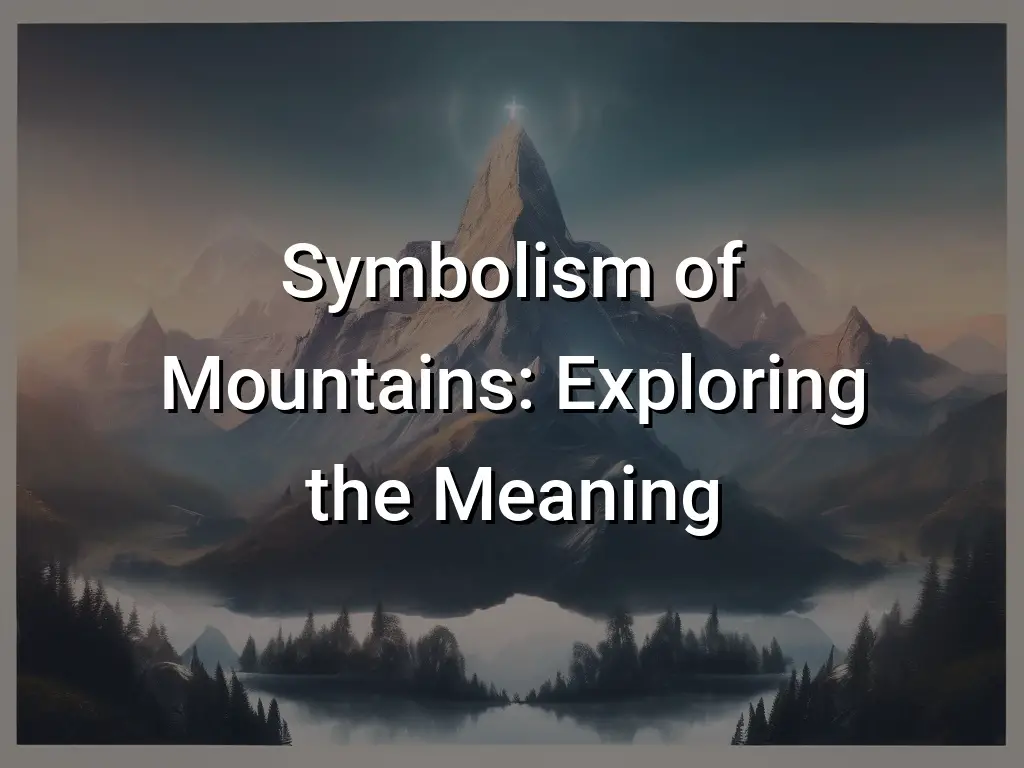 Mountains have long been recognized as powerful symbols in various cultures and belief systems. They evoke a sense of awe, strength, and endurance. But what exactly do mountains symbolize? In this article, we will delve into the meaning behind mountains and explore their symbolism in different contexts.
From ancient myths to modern literature, mountains have represented a range of ideas and emotions. They can symbolize challenges and obstacles that need to be overcome, as well as the journey of personal growth and self-discovery. Mountains can also embody a sense of spirituality, representing a connection to the divine and the pursuit of enlightenment. Join us as we unravel the symbolism of mountains and discover how they inspire and resonate with us.
Cultural Significance of Mountains
Mountains have long held cultural significance in various societies around the world. They are often seen as awe-inspiring natural features that evoke a sense of wonder and reverence. Mountains can symbolize different concepts and values, depending on the culture and context. Here is a brief overview of the cultural significance of mountains:
Spiritual Retreat: Mountains are often associated with spiritual retreat and introspection. Many cultures consider mountains as sacred or holy places, where individuals can seek solitude and connect with a higher power.
Symbol of Strength and Endurance: Mountains are often seen as symbols of strength, resilience, and endurance. Climbing a mountain can be seen as a metaphor for overcoming challenges and achieving personal growth.
Connection with Nature: Mountains are often seen as a connection to the natural world. They are home to diverse ecosystems and provide habitats for numerous plant and animal species. Mountains symbolize the importance of preserving and respecting the natural environment.
Landmarks and Boundaries: Mountains can serve as landmarks and natural boundaries, defining the borders of countries, regions, or communities. In some cultures, mountains are seen as guardians or protectors of the land and its people.
Symbol of Majesty and Beauty: Mountains are often celebrated for their majestic beauty and grandeur. Many artists, writers, and photographers have been inspired by the scenic beauty of mountains, capturing their awe-inspiring landscapes in various forms of art.
As you can see, mountains hold deep cultural significance in various societies, representing values such as spirituality, strength, and connection with nature. The symbolism of mountains can vary across different cultures, but their power and beauty are universally acknowledged.
Spiritual Significance of Mountains
Mountains as Sacred Spaces
Mountains have long been regarded as sacred spaces in various spiritual traditions. They are often seen as a meeting point between heaven and earth, representing a connection between the physical and spiritual realms. Many cultures believe that mountains are home to gods, deities, or spiritual beings, and they are often considered places of worship and pilgrimage.
Mountains as Symbols of Enlightenment
The journey up a mountain is often seen as a metaphor for the spiritual journey towards enlightenment. Climbing a mountain requires perseverance, strength, and the ability to overcome obstacles along the way. Similarly, the spiritual path is often challenging and requires individuals to overcome their inner struggles to reach a state of enlightenment or spiritual awakening.
Mountains as Symbols of Transcendence
Mountains are often associated with the idea of transcending earthly limitations and reaching higher levels of consciousness. Their lofty peaks and expansive views symbolize a sense of elevation and perspective. Many spiritual practitioners seek solitude and retreat in mountainous areas to disconnect from the distractions of daily life and connect with their inner selves or higher powers.
Mountains as Symbols of Strength and Stability
Mountains, with their massive and unyielding nature, are often seen as symbols of strength, stability, and permanence. They stand tall and majestic, seemingly immovable. In spiritual and metaphorical terms, mountains can represent the inner strength and resilience required to face and overcome challenges in life. They inspire individuals to stay grounded, steady, and unwavering in the face of adversity.
Metaphorical Representation of Mountains
Strength and Stability
Mountains are often used as a metaphor for strength and stability. Their lofty peaks and solid foundations symbolize unwavering resolve and the ability to withstand challenges. Mountains represent the inner strength and resilience that individuals can draw upon in difficult times.
Ambition and Achievement
Mountains are also associated with ambition and the pursuit of goals. Climbing a mountain requires determination, perseverance, and a willingness to face obstacles. As a metaphor, mountains represent the challenges and triumphs of striving for success and achieving personal growth.
Spiritual Ascension
Mountains have long been associated with spiritual ascension and enlightenment. Climbing to the summit of a mountain can symbolize the journey of the soul, reaching higher states of consciousness, and gaining spiritual wisdom. Mountains provide a sense of awe and connection to something greater than ourselves.
Overcoming Obstacles
Mountains are often used as a metaphor for overcoming obstacles and surpassing limitations. Just as climbing a mountain requires physical and mental strength, overcoming challenges in life requires resilience and perseverance. Mountains represent the power to rise above adversity and reach new heights.
Isolation and Solitude
Mountains can also represent isolation and solitude. Their towering presence and remote locations evoke a sense of solitude and introspection. Mountains can serve as a metaphor for finding solace and inner peace in times of solitude or separation from the outside world.
Mountains in Literature
Mountains have long been a source of inspiration for writers and have featured prominently in many literary works. From their majestic beauty to their symbolic significance, mountains have captured the imagination of authors and readers alike. In this section, we will explore the various ways in which mountains are portrayed in literature.
Symbolism and Themes
Mountains often carry symbolic meanings in literature. They can represent challenges, obstacles, or goals that characters must overcome or conquer. Mountains can also symbolize strength, endurance, and resilience. The lofty peaks and rugged terrain of mountains can serve as a metaphor for life's struggles and the journey towards self-discovery or enlightenment.
Setting and Atmosphere
Mountains can provide a vivid backdrop for a story, setting the scene and creating a particular atmosphere. The towering heights, breathtaking views, and wilderness of mountains can evoke a sense of awe, solitude, or adventure. Whether it's the misty peaks of the Himalayas in a travelogue or the treacherous slopes of a mountain range in a thriller, the setting of mountains can enhance the mood and tone of a literary work.
Character and Plot Development
Mountains can play a significant role in character and plot development. They can be a physical or metaphorical journey that a character undertakes, leading to personal growth or transformation. Mountains can also serve as a meeting place, a point of conflict, or a site of revelation in a story. The challenges and experiences characters encounter in the mountains can shape their identities, relationships, and motivations.
Representations in Different Genres
Mountains are featured in various genres of literature, each with its own unique approach. In adventure or exploration novels, mountains may be the primary focus, showcasing the thrill and danger of high-altitude expeditions. In nature writing or poetry, mountains can be celebrated for their beauty, power, and connection to the natural world. In fantasy or mythology, mountains can be sacred or enchanted places inhabited by gods, spirits, or mythical creatures.
Whether through symbolism, setting, or character development, mountains have played a significant role in shaping the literary landscape. They continue to inspire writers to explore themes of human nature, spirituality, and the mysteries of the natural world.
Mountains in Art
Mountains have long been a popular subject in the world of art, inspiring countless artists to capture their beauty and symbolism. From majestic landscapes to abstract interpretations, mountains have been depicted in various art forms, including painting, photography, sculpture, and more. Here are some ways mountains are represented in art:
Naturalistic Landscapes
Many artists strive to recreate the beauty and grandeur of mountains through naturalistic landscape paintings. These artworks often showcase the intricate details of peaks, valleys, and the play of light and shadow on the rugged terrains. Artists may use various techniques, such as color blending, texture application, and meticulous brushwork, to bring mountains to life on canvas.
Symbolic Representations
Mountains are also frequently used as symbolic elements in art. They can represent strength, stability, and resilience. Mountains are often depicted as a metaphor for conquering challenges and overcoming obstacles. Artists may incorporate mountains into their artwork to convey a deeper meaning or to evoke specific emotions in viewers.
Abstract Interpretations
Some artists choose to explore mountains in a more abstract and experimental way. They may use bold brushstrokes, vibrant colors, or unconventional materials to create abstract mountain representations. These artworks may focus on the essence or energy of mountains rather than their realistic appearances, inviting viewers to interpret their own meanings and feelings.
Mountains have had a significant presence in the art world throughout history, and their symbolism and beauty continue to inspire artists today. Whether depicted in a realistic landscape, a symbolic representation, or an abstract interpretation, mountains in art serve as a powerful subject that captivates and resonates with viewers.
Mountains in Religion
Mountains hold significant religious symbolism in various faiths and spiritual traditions. They are often seen as sacred places where humans can connect with the divine, seek enlightenment, or engage in spiritual practices. Here are a few examples of the significance of mountains in different religions:
1. Abrahamic Religions
In Judaism, Christianity, and Islam, mountains play important roles in religious narratives and teachings. For example:
Mt. Sinai: In the Bible, Mt. Sinai is where Moses received the Ten Commandments from God, symbolizing divine revelation and guidance.
Mt. Zion: In Judaism and Christianity, Mt. Zion is synonymous with Jerusalem and is considered a holy place associated with God's presence and the establishment of his kingdom.
Mount of Olives: In the New Testament, the Mount of Olives is significant as the location of Jesus' ascension into heaven, making it a site of pilgrimage and spiritual importance for Christian believers.
Mount Arafat: In Islam, Mount Arafat near Mecca is where the Prophet Muhammad delivered his final sermon, and it is an essential part of the annual Hajj pilgrimage.
2. Hinduism
In Hinduism, mountains are often seen as the abodes of gods and goddesses. Some notable examples include:
Himalayas: The Himalayas are regarded as the dwelling place of Lord Shiva, one of the most prominent deities in Hinduism and the source of the sacred Ganges River.
Mount Kailash: Located in Tibet, Mount Kailash is considered the residence of Lord Shiva and is a highly revered pilgrimage site for Hindus as well as Buddhists and Jains.
Arunchala Hill: Arunchala Hill in Tamil Nadu, India, is considered a manifestation of Lord Shiva and is associated with spiritual awakening and liberation.
3. Buddhism
In Buddhism, mountains are often associated with serenity, enlightenment, and spiritual practice. Notable examples include:
Mount Kailash: As mentioned earlier, Mount Kailash is a sacred site for Buddhists as well, representing spiritual power and the path to enlightenment.
Huangshan (Yellow Mountain): Huangshan in China is considered a Buddhist sanctuary characterized by its breathtaking natural beauty and connection to transcendence and meditation.
These are just a few examples of how mountains hold religious significance in various faiths. The symbolism and spiritual importance of mountains can vary greatly depending on the specific religious beliefs and cultural contexts.
Physical Attributes and Natural Wonders of Mountains
Mountains are majestic natural formations that captivate our imagination and offer breathtaking views. They are characterized by their towering heights, rugged terrain, and awe-inspiring beauty. Let's explore the physical attributes and natural wonders that make mountains so remarkable.
Elevation: Mountains are typically defined as landforms that rise at least 1,000 feet (305 meters) above their surrounding areas. Some mountains, such as Mount Everest, reach dizzying heights of over 29,000 feet (8,800 meters), making them the tallest peaks in the world.
Formation: Mountains are created through a variety of geological processes, including tectonic plate movements, volcanic activity, and erosion. Over millions of years, these forces shape the landscape and give rise to the majestic peaks we see today.
Ecological Diversity: Mountains are home to a wide array of ecosystems and habitats, each with its own unique flora and fauna. From lush forests to alpine meadows, mountains support a rich biodiversity that is often adapted to withstand the harsh climate and extreme conditions found at high altitudes.
Water Sources: Mountains are a crucial source of freshwater, as they act as natural reservoirs for snow and ice. The melting of these glaciers and the flow of rivers originating from mountains provide vital water resources for both human populations and wildlife.
Natural Beauties: Mountains are renowned for their stunning natural wonders, including jagged peaks, deep valleys, sparkling lakes, and cascading waterfalls. These features create a picturesque landscape that draws visitors from around the world.
The physical attributes and natural wonders of mountains make them a captivating subject in various fields, including literature, art, and religion. In the next sections, we will explore their symbolism and cultural significance in more detail.
Exploring Mountains: Famous Mountain Ranges and Peaks
The Himalayas
The Himalayas, located in Asia, are the highest mountain range in the world. Mount Everest, the tallest peak in the world, is a part of the Himalayas. The range is known for its majestic snow-capped peaks, including Kanchenjunga, Makalu, and Annapurna. The Himalayas hold great cultural and spiritual significance, with many religious and pilgrimage sites nestled within its slopes.
The Rocky Mountains
The Rocky Mountains span across North America, stretching from Canada to the United States. This mountain range offers breathtaking views, diverse ecosystems, and thrilling outdoor activities. Some of the notable peaks in the Rockies include Mount Elbert, Mount Massive, and Longs Peak. The Rocky Mountains are known for their rugged beauty and impressive geological formations.
The Alps
The Alps, located in Europe, are renowned for their stunning landscapes and world-class skiing destinations. This mountain range spans across several countries, including France, Switzerland, Italy, and Austria. Famous peaks in the Alps include Mont Blanc, Matterhorn, and Eiger. The Alps have a rich cultural heritage, with picturesque mountain villages and charming alpine traditions.
The Andes
The Andes, stretching along the western coast of South America, is the longest mountain range in the world. This majestic range is home to diverse ecosystems, including snow-capped peaks, lush valleys, and the Atacama Desert. Mount Aconcagua, the highest peak outside of Asia, is located in the Andes. The Andes hold deep cultural and historical significance for the indigenous peoples of South America.
The Atlas Mountains
The Atlas Mountains traverse across Morocco, Algeria, and Tunisia in North Africa. These mountains offer a beautiful contrast to the surrounding desert landscapes. The Atlas Mountains are known for their vibrant Berber culture and rich biodiversity. Jebel Toubkal, the highest peak in the Atlas Mountains, is a popular destination for hikers and mountaineers.
Conclusion
Mountains have deep cultural, spiritual, and metaphorical significance across various cultures and societies. They symbolize strength, resilience, and a sense of awe and wonder. Whether they are depicted in literature, art, or religion, mountains continue to captivate our imagination and inspire us to explore the natural wonders of the world.
So next time you gaze upon a majestic mountain range or read about mountains in a book, take a moment to appreciate the rich symbolism and meaning they hold. Mountains remind us of our own inner strength and invite us to embark on a journey of self-discovery and exploration. Let the mountains call to you and embrace the beauty and majesty they represent.